Let's change the world together!
USC is a leading private research university located in Los Angeles – a global center for arts, technology and international business. As the city's largest private employer, responsible for more than $8 billion annually in economic activity in the region, we offer the opportunity to work in a dynamic and diverse environment, in careers that span a broad spectrum of talents and skills across a variety of academic schools and units. As a USC employee, you will enjoy excellent benefits and perks, and you will be a member of the Trojan Family - the faculty, staff, students and alumni who make USC a great place to work. Think you've got what it takes to join us? We invite you to search our open positions and apply!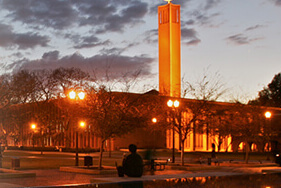 Core Manager, Mass Spectrometry Core Facility
Apply
School of Pharmacy
Los Angeles, California
The University of Southern California, School of Pharmacy is seeking an experienced research scientist for an immediate opening as Core Manager of the Mass Spectrometry Core Facility.
The successful candidate will oversee and supervise day-to-day operations of a facility that broadly applies to metabolomics, lipidomics, proteomics, and MALDI imaging approaches to support basic, translational and clinical research in cancer, chronic inflammatory conditions, infectious diseases, neuroscience and pharmacological and biomarker development efforts. This is a unique growth opportunity for an enthusiastic self-starter who will contribute to a wide and diverse range of projects both within the University of Southern California and to the external scientific community at large. The individual will play a critical role in executing technical protocols and laboratory experiments using established protocols as well as contributing to the development of novel experimental designs, workflows, and new analytical methods. The individual will employ a collaborative approach to work closely with faculty and scientists at USC and with our external partners on all aspects of their projects, including: providing project support, consulting and teaching practical interpretation of datasets, effectively communicating project progress, writing technical summaries, and assisting as needed with publication and grant writing.  In addition, the Core Manager will be instrumental in the preparation and submission of shared instrument grants.
In addition, the Core Manager will be responsible for supervising and training facility staff, managing operating costs, ensuring a balanced budget and maintaining/troubleshooting equipment. It is also expected that the candidate will collaborate and publish with colleagues at USC.
Position Requirements
Required experience: At least 3 years of experience in the operation of mass spectrometers and associated data analysis software(s).
Preferred Education: A PhD in a scientific discipline is required for this position, preferably in Chemistry, Biochemistry, Molecular Biology or related field.
Preferred Experience: At least 5 years' experience in the operation of mass spectrometers in the analysis of data, with preferably at least three years' experience in a core facility.
Skills/Other: Prior experience in the areas of general metabolite/lipid analysis and purification (e.g. HPLC, SDS-PAGE, enzymatic assays, Westerns, colorimetric assays, precipitations, etc.), cell culture, histology, and general laboratory techniques is required. Familiarity and skills with Mass Spectrometry search engines and data analysis for quantitative metabolomics, proteomics, and lipidomic database will be essential.  The successful candidate must be able to work effectively in a team while also independently planning and executing projects. Excellent project management and communication skills are critical.  Individuals with experience in developing disease biomarker panel would be highly encouraged to apply.
The University of Southern California is a world-renowned research and educational institution recognized internationally for its excellence in fundamental, translational and clinical areas. The University has long been recognized as a place for nurturing young scientists, with postdoctoral researchers being an integral part of the discovery process. The University offers a warm, collegial, diverse, and collaborative work environment.
Minimum Education: Bachelor's degree Combined experience/education as substitute for minimum education Minimum Experience: 3 years Combined experience/education as substitute for minimum experience Minimum Field of Expertise: Related experience with specialized research and/or programs (e.g., counseling, teaching). Ability to analyze and evaluate data, and present findings. Excellent interpersonal and written and oral communication skills, able to problem solve and lead conflict resolutions. Ability to interpret and apply policies/analyses/trends.
REQ20109604 Posted Date: 04/12/2022
Apply