Faculty
"The University of Southern California is committed to excellence in teaching through strategies that foster the knowledge, skills, relationships, and values necessary for students to make real contributions in a rapidly changing world. USC is an equitable and diverse research university, and we recognize the many ways inclusivity strengthens our campus community. Our superb faculty have the exceptional responsibilities of creating new knowledge and instructing and guiding our passionate, hardworking student body" –Elizabeth Graddy, Executive Vice Provost for Academic Affairs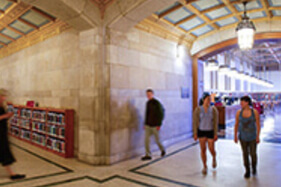 Adjunct Instructor of Methods for Equity Analysis
Apply
Sol Price School of Public Policy
Faculty
Los Angeles, California
University of Southern California
Sol Price School of Public Policy
Adjunct Instructor of Methods for Equity Analysis
Department of Public Policy
The USC Sol Price School of Public Policy is seeking a working professional with expertise to teach in the area of measurement and analysis of inequality. The successful candidate should possess a Ph.D. in public policy, economics, sociology, or a related field; a Master's degree may be acceptable with appropriate experience. The candidate will be able to teach the graduate course PPDE 661 Methods for Equity Analysis ("Techniques to measure inequality and segregation. Policy evaluation using techniques for casual inference.") in the Fall 2022 semester. Preference will be given to candidates with prior teaching experience and excellent teaching evaluations.
Adjunct instructor responsibilities include delivery of course content, scheduling office hours and being accessible to students as appropriate, and grading. Each instructor is expected to provide students with a syllabus outlining the course goals, schedule and all requirements for the course under the direction of the Department Chair.
Course Description: This course addresses measurement, determinants, and consequences of inequality.  Students read empirical literature and review measures of inequality related to income, opportunity, health, criminal justice, housing, environment, food, and segregation. The course discusses individual and structural factors of inequality, as well as the role of public policy in improving and/or perpetuating inequality, with a particular focus on marginalized populations (e.g., race and ethnicity).  The course is generally taught from an economic perspective, but it is fundamentally interdisciplinary and draws on knowledge and research from other fields such as sociology and political science.
About the Sol Price School of Public Policy: The mission of the Sol Price School of Public Policy is to improve the quality of life for people and their communities, here and abroad. We achieve this mission through education and research that promote innovative solutions to the most critical issues facing society, with a particular focus on governance, urban development, and social policy. The Price School offers Ph.D. programs in Public Policy and Management and Urban Planning; masters' degrees in Public Administration, Public Policy, Urban Planning, Health Administration, Nonprofit Management and Leadership, and Real Estate Development; executive masters' degrees; and three undergraduate degrees.  USC is one of the nation's premiere research universities, and the Price School is a major contributor to the university's reputation. Our school supports an array of thematic research centers with $35 million in active sponsored research, ranking third overall in funded research at USC on a per faculty basis. Much of the school's research is conducted through its centers, institutes, and research groups.  For additional information, see our website: https://priceschool.usc.edu/
An Equal Opportunity Employer: USC is an equal-opportunity educator and employer, proudly pluralistic and firmly committed to providing equal opportunity for outstanding persons of every race, gender, creed and background. The University particularly encourages women, members of underrepresented groups, veterans and individuals with disabilities to apply. USC will make reasonable accommodations for qualified individuals with known disabilities unless doing so would result in undue hardship.
Apply for this Position: Applicants should submit a letter of interest, curriculum vitae, and (if available) one or more sample syllabi and one or more sets of sample teaching evaluations.
REQ20116059 Posted Date: 04/25/2022
Apply