Let's change the world together!
USC is a leading private research university located in Los Angeles – a global center for arts, technology and international business. As the city's largest private employer, responsible for more than $8 billion annually in economic activity in the region, we offer the opportunity to work in a dynamic and diverse environment, in careers that span a broad spectrum of talents and skills across a variety of academic schools and units. As a USC employee, you will enjoy excellent benefits and perks, and you will be a member of the Trojan Family - the faculty, staff, students and alumni who make USC a great place to work. Think you've got what it takes to join us? We invite you to search our open positions and apply!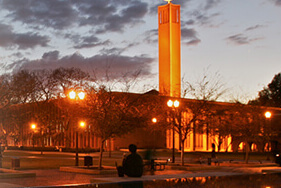 Administrative Assistant II
Apply
Institute for Creative Technologies
Los Angeles, California
The University of Southern California's Institute for Creative Technologies (ICT) is seeking an Administrative Assistant to join its team.  
The Administrative Assistant will perform varied administrative and general office duties supporting ICT's Director of Finance, Operations & Human Resources. Responsibilities will include maintaining calendars, schedule/coordinate meetings, conferences, and special events, arrange travel, track expenditures and process reimbursements.
Job Accountabilities
Organizes and expedites flow of work through supervisor's office and/or administrative department. Initiates follow-up action. Serves as resource to others on departmental and university procedures or in the resolution of moderate to complex problems or issues. Interacts with university offices and/or supervisor's subordinates to facilitate communications and information exchange.
Composes and produces a variety of business correspondence, reports, confidential documents and/or forms, and related materials or guides the work of other staff who produce these materials. Reviews and signs, as authorized.
Coordinates department public relations functions, as assigned, such as special events, conferences, seminars, etc. Arranges with vendors for sites, facilities, catering, guest accommodations, etc. Coordinates production and/or distribution of promotional materials.
Researches and gathers data for departmental reports. Conducts preliminary analysis of data. Recommends report content and format to display findings most effectively.
Preferred skills and experience
4+ years executive assistant or administrative assistant experience supporting multiple people
Strong organizational skills with strong attention to detail.
Be able to effectively handle multiple and overlapping tasks to ensure timely completion within established timelines
Demonstrate positive communication and interpersonal skills.  Position requires regular interaction with interdepartmental staff, faculty members, and outside collaborators
Have proficient computer skills (i.e., Word, Excel, Outlook, PowerPoint, Concur, Workday, Qualtrics, and Adobe)
Some legal experience 
Preferred Education - Bachelor's degree
Required Documents - Please submit resume and cover letter with application
Why work at USC ICT
Work on exciting and engaging projects that have real-life impact
A quality work-life balance
Meet interesting people from all walks of life: technologists, social scientists, military experts, creative writers, etc.
Opportunities for free, top-tier university education for you and your children
Located in the heart of Silicon Beach
Be part of both the research and development of tomorrow
Flexible schedule
Great benefits, including medical, continued education, and matched retirement, see http://benefits.usc.edu
About USC ICT
The University of Southern California's Institute for Creative Technologies (USC ICT) is where academia, entertainment, and the military meet. Located in the heart of Silicon Beach in Playa Vista, no other institute offers a more diverse collaborative environment where basic and applied research work hand-in-hand to transition cutting-edge technologies. We are world leaders in virtual human research, computer graphics, computer training simulations, learning sciences, body computing, and immersive experiences for decision-making, cultural awareness, leadership and health. ICT employees are encouraged to develop themselves both professionally and personally, through workshops, invited guest talks, movie nights, social events, a private gym and a personal trainer. The atmosphere at ICT is relaxed, informal and flexible, while encouraging initiative, personal responsibility, and a high work ethic.
The hourly rate range for this position is $25.48 - $30.00. When extending an offer of employment, the University of Southern California considers factors such as (but not limited to) the scope and responsibilities of the position, the candidate's work experience, education/training, key skills, internal peer equity, federal, state, and local laws, contractual stipulations, grant funding, as well as external market and organizational considerations
Performs various administrative and office duties for the Director of Finance and the departments reporting to her, HR, Facilities and the Business Office
REQ20123845 Posted Date: 03/05/2023
Apply