Faculty
"The University of Southern California is committed to excellence in teaching through strategies that foster the knowledge, skills, relationships, and values necessary for students to make real contributions in a rapidly changing world. USC is an equitable and diverse research university, and we recognize the many ways inclusivity strengthens our campus community. Our superb faculty have the exceptional responsibilities of creating new knowledge and instructing and guiding our passionate, hardworking student body" –Elizabeth Graddy, Executive Vice Provost for Academic Affairs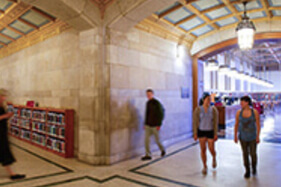 Assistant Professor of Clinical Pediatrics (Division of Cardiology-Pulmonary Hypertension CHLA
Apply
Keck School of Medicine
Faculty
Los Angeles, California
The University of Southern California (USC), founded in 1880, is the largest private employer in the City of Los Angeles. As an employee of USC, you will be a part of a world-class research university and a member of the "Trojan Family," which is comprised of the faculty, students and staff that make the university what it is.
The Keck School of Medicine (KSOM) of the University of Southern California (USC) and Children's Hospital Los Angeles (CHLA) in the Department of Pediatrics in the Division of Cardiology, are actively seeking a full-time faculty member at the level of Assistant Professor of Clinical Pediatrics. Applicants must have an M.D. or equivalent degree and have demonstrated scholarly, clinical, and teaching capabilities. Candidates must be board certified or board eligible in Pediatric Cardiology by the American Board of Pediatrics and be eligible for medical licensure in the State of California. Candidates will have already completed an ACGME accredited 3-year fellowship in Pediatric Cardiology, with advanced subspecialty training in the area of pediatric pulmonary hypertension.
Candidates should be experienced in the assessment and management of pediatric pulmonary hypertension, and have a broad exposure to, and familiarity with, congenital and acquired causes of pulmonary hypertension. They should be able to deliver comprehensive evaluations of patients with pulmonary hypertension using both invasive and non-invasive techniques, and administer all management required for the full clinical range of patients with pulmonary hypertension, from neonates up to young adults.
Candidates should demonstrate a rigorous academic focus—ideally with a history of research/investiga­tional pursuits and publications in peer-reviewed journals—and a clear intention for academic productivity. The Heart Institute at Children's Hospital Los Angeles hosts fellowship training programs in general and subspecialty cardiology, cardiac critical care, pediatric cardiothoracic surgery and pediatric cardiac anesthesiology. The delivery of care is interdisciplinary involving both medical and nurse practitioner providers.  The provision of both workplace based and didactic teaching to fellows, residents, medical students and nurses is an expectation in this role.
The successful candidate will join a Division of 27 cardiologists specialized in a wide range of areas of expertise. The role will be to assume attending physician co-responsibility for inpatient and outpatient care of patients with pulmonary hypertension, along with one other provider, and a nurse practitioner. This position will also include inpatient and outpatient general cardiology responsibilities including general cardiology inpatient service on a rotating basis with other faculty members in the division. a commitment to intern, resident and fellowship teaching is also required.
Children's Hospital Los Angeles is ranked among the top hospitals in the nation for pediatric cardiac  care on the U.S. News & World Report Best Children's Hospitals List. We are a recognized leader in state-of-the-art evaluation, diagnosis and treatment for all forms of heart disease. As a core component of the hospital's Heart Institute, our division offers expertise in all major areas of cardiology, with nationally-recognized subspecialists in all major areas. Children are referred to us for care from across the western United States and Pacific Rim countries.
The annual base salary range for this position is $95,904 -$325,712. When extending an offer of employment, the University of Southern California considers factors such as (but not limited to) the scope and responsibilities of the position, the candidate's work experience, education/training, key skills, internal peer equity, federal, state and local laws, contractual stipulations, grant funding, as well as external market and organizational considerations.
Academic appointment through USC Keck School of Medicine is available at a level appropriate to training and experience. USC is an equal opportunity, affirmative action employer. CHLA and USC greatly values diversity and is committed to building a vibrant and culturally diverse community of faculty that best reflects the patients and families that we serve. Individuals from underrepresented groups in medicine are especially encouraged to apply.
REQ20128300 Posted Date: 01/24/2023
Apply