Faculty
"The University of Southern California is committed to excellence in teaching through strategies that foster the knowledge, skills, relationships, and values necessary for students to make real contributions in a rapidly changing world. USC is an equitable and diverse research university, and we recognize the many ways inclusivity strengthens our campus community. Our superb faculty have the exceptional responsibilities of creating new knowledge and instructing and guiding our passionate, hardworking student body" –Elizabeth Graddy, Executive Vice Provost for Academic Affairs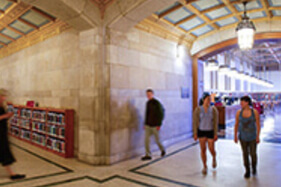 Assistant Professor of Clinical Pediatrics Division of Emergency Medicine and Transport Medicine -CHLA
Apply
Keck School of Medicine
Faculty
Los Angeles, California
The University of Southern California (USC), founded in 1880, is the largest private employer in the City of Los Angeles. As an employee of USC, you will be a part of a world-class research university and a member of the "Trojan Family," which is comprised of the faculty, students and staff that make the university what it is.
The Keck School of Medicine (KSOM) of the University of Southern California (USC) and Children's Hospital Los Angeles (CHLA) in the Department of Pediatrics in the Division of Emergency and Transport Medicine, are actively seeking a full-time faculty member for the position of Assistant Professor of Clinical Pediatrics.
Don't miss out on this exciting job opportunity in Los Angeles!  Children's Hospital Los Angeles and the Keck School of Medicine of the University of Southern California are seeking (2) two additional physicians to join our Faculty in the Division of Emergency and Transport Medicine. The Emergency Department (ED) sees a large volume of patients suffering from rare to common diseases and a vast spectrum of traumatic injuries.  The attending staff is a young, energetic group of 30 Pediatric Emergency Medicine (PEM) physicians, 13 Pediatricians, 6 Pediatric Nurse Practitioners and 10 PEM fellows dedicated to the teaching and supervision of medical students and residents, which includes 10 rotating programs.
The ED has numerous research studies, a Point-of-Care Ultrasound fellowship and a large educational program for residents, PEM fellows and attending physicians.  The ED is assisted by social workers, translators and child-life specialists.
CHLA has a 347-bed tertiary state of the art acute care and referral center. The ED is a designated Level 1 Pediatric Trauma Center and PCCC, which sees approximately 92,000 patients annually. The Emergency Transport Program arranges for 3,000 transports annually. 
Los Angeles has a rich diversity of food, clothing, architecture, theater, music, sports, languages and religions.  We are the arts and entertainment capital of the world and are home to fabulous museums, music centers, and other venues.
The salary and benefit package offered is competitive.  Interested individuals should apply here and upload their curriculum vitae (CV) and letter of interest. For further inquiries contact
Alan L. Nager MD, MHA                                                  
Director, Emergency and Transport Medicine         
Children's Hospital Los Angeles, Professor of Pediatrics 
Keck School of Medicine/University of Southern California
Email: nager@chla.usc.edu
Academic appointment through USC Keck School of Medicine is available at a level appropriate to training and experience. USC is an equal opportunity, affirmative action employer. CHLA and USC greatly values diversity and is committed to building a vibrant and culturally diverse community of faculty that best reflects the patients and families that we serve. Individuals from underrepresented groups in medicine are especially encouraged to apply.
REQ20116195 Posted Date: 04/27/2022
Apply