Faculty
"The University of Southern California is committed to excellence in teaching through strategies that foster the knowledge, skills, relationships, and values necessary for students to make real contributions in a rapidly changing world. USC is an equitable and diverse research university, and we recognize the many ways inclusivity strengthens our campus community. Our superb faculty have the exceptional responsibilities of creating new knowledge and instructing and guiding our passionate, hardworking student body" –Elizabeth Graddy, Executive Vice Provost for Academic Affairs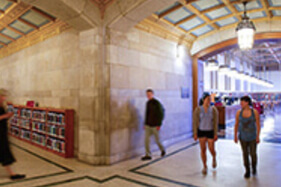 Assistant Professor of Clinical Urology
Apply
Keck School of Medicine
Faculty
Los Angeles, California
The University of Southern California (USC), founded in 1880, is the largest private employer in the City of Los Angeles. As an employee of USC, you will be a part of a world-class research university and a member of the "Trojan Family," which is comprised of the faculty, students and staff that make the university what it is.
The Department of Urology in the Keck School of Medicine of the University of Southern California is recruiting at the Assistant Professor of Clinical Urology level.  This position requires the applicant to be a Society of Endourology Robotic Urologic Oncology and Minimally Invasive Surgery fellowship trained.  Qualified applicants must be a highly experienced surgeon in single port robotic surgery.  The qualified applicant will need to be able to perform a wide range of robotic urologic oncology and robotic benign urologic surgeries with an emphasis on using the single port robotic surgery platform.  The qualified applicant will be expected to perform outreach clinics and serve remote and underserved patient populations   The primary location of the position will be in Los Angeles California.  Minimum requirements for this position are: must poses a Medical Doctor (or equivalent) degree, have certification of robotic urologic oncology and minimally invasive surgery fellowship training, be urology board eligible and have an active California Medical License.
 "The annual base salary range for this position is $250,000-$300,000. When extending an offer of employment, the University of Southern California considers factors such as (but not limited to) the scope and responsibilities of the position, the candidate's work experience, education/training, key skills, internal peer equity, federal, state, and local laws, contractual stipulations, grant funding, as well as external market and organizational considerations."
The position offers a competitive salary with excellent university benefits and an academic appointment at the USC Keck School of Medicine appropriate to the level of training and experience.  USC values diversity and is committed to equal opportunity in employment. Women and men, and members of all racial and ethnic groups are encouraged to apply.
REQ20128289 Posted Date: 01/24/2023
Apply