Faculty
"The University of Southern California is committed to excellence in teaching through strategies that foster the knowledge, skills, relationships, and values necessary for students to make real contributions in a rapidly changing world. USC is an equitable and diverse research university, and we recognize the many ways inclusivity strengthens our campus community. Our superb faculty have the exceptional responsibilities of creating new knowledge and instructing and guiding our passionate, hardworking student body" –Elizabeth Graddy, Executive Vice Provost for Academic Affairs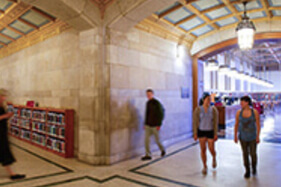 Clinical Assistant Professor of Medicine (Clinician Educator) Palliative Care Medicine
Apply
Keck School of Medicine
Faculty
Los Angeles, California
The University of Southern California (USC), founded in 1880, is the largest private employer in the City of Los Angeles. As an employee of USC, you will be a part of a world-class research university and a member of the "Trojan Family," which is comprised of the faculty, students and staff that make the university what it is.
The University of Southern California program in Palliative Medicine and Supportive Care is seeking an experienced board certified palliative medicine physician to join as faculty at the Clinical Assistant Professor level for the multi-hospital based and growing palliative care program in the vibrant and diverse city of Los Angeles. Our team provides care to the medically complex, diverse patients seen at the Keck Medical Center of USC and the Norris Comprehensive Cancer Center through an inpatient consultation service, an outpatient clinic, and a GIP hospice program.
The USC Palliative Medicine and Supportive Care program has a core mission of providing culturally sensitive clinical care through skilled communication, expert symptom management and consultative collaboration. Teaching is a priority and Palliative Medicine faculty provide core education for all levels of medical training. The program is integrated into the Keck School of Medicine Curriculum, the Department of Medicine Internal Medicine Residency program and provides training to rotating fellows within the departmental training programs. The Palliative Care team also provides training to rotating fellows from other clinical departments such as Oncology, Pulmonary/Critical Care, Psychiatry, Neurology, and Emergency Medicine. We offer a multitude of opportunities for teaching, research, and community engagement.
The individual chosen for this position will receive an academic appointment at the University of Southern California and be based in the Keck School of Medicine, Department of Medicine in the Division of Geriatric, Hospital, Palliative and General Internal Medicine. Salary and academic rank will be commensurate with qualifications.
The annual base salary range for this position is $230,000-$250,000.  When extending an offer of employment, the University of Southern California considers factors such as (but not limited to) the scope and responsibilities of the position, the candidate's work experience, education/training, key skills, internal peer equity, federal, state, and local laws, contractual stipulations, grant funding, as well as external market and organizational considerations.
Applicants must hold an active California medical license and a fee paid, full schedule DEA with CA address at the time of credentialing.
The University of Southern California strongly values diversity and is committed to equal opportunity in employment.  Women and men, and members of all racial and ethnic groups, people with disabilities, and veterans are encouraged to apply.
REQ20101071 Posted Date: 03/16/2023
Apply
Staff jobs for current employees
Please visit the Career Worklet on the Workday Homepage and select "Find Jobs" to view USC Jobs.
(If you're not currently a USC employee, click here to view USC jobs)