Faculty
"The University of Southern California is committed to excellence in teaching through strategies that foster the knowledge, skills, relationships, and values necessary for students to make real contributions in a rapidly changing world. USC is an equitable and diverse research university, and we recognize the many ways inclusivity strengthens our campus community. Our superb faculty have the exceptional responsibilities of creating new knowledge and instructing and guiding our passionate, hardworking student body" –Elizabeth Graddy, Executive Vice Provost for Academic Affairs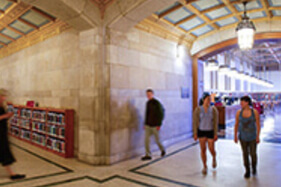 Faculty Program Director of Relationship and Sexual Prevention and Services, USC Student Health/Clinical Instructor or Assistant Professor of Clinical Psychiatry and the Behavioral Sciences (Clinician Educator)
Apply
Keck School of Medicine
Faculty
Los Angeles, California
The University of Southern California (USC), founded in 1880, is the largest private employer in the City of Los Angeles. As an employee of USC, you will be a part of a world-class research university and a member of the "Trojan Family," which is comprised of the faculty, students and staff that make the university what it is.
Position Description
The Department of Psychiatry and Behavioral Sciences at the Keck School of Medicine of USC seeks a Program Director for Relationship and Sexual Violence Prevention and Services (RSVP) within USC Student Health to join a diverse and dynamic multidisciplinary team who are strongly committed to providing excellent clinical treatment, training, advocacy, prevention, and outreach services regarding gender-based harm and sexual violence. We are seeking candidates who have strong clinical skills, leadership skills/experience/potential, and thrive in a fast-paced, collaborative, collegial, professional environment.
This is a full-time clinical faculty position with an academic appointment in the Department of Psychiatry and the Behavioral Sciences at the Keck School of Medicine of USC and service assignment in Counseling and Mental Health (CMH) / RSVP of USC Student Health.  Salary is competitive, and contingent on experience. A generous benefits package includes health insurance, retirement, paid time off, parental leave, tuition assistance, professional days, a stipend for professional development, the ability to earn continuing education credits through our Grand Rounds series, and more (information about benefits can be found here). The schedule for this position will reflect a hybrid of virtual/remote and in-person functions (this is not a fully remote position).
Description of RSVP
USC Student Health, Relationship and Sexual Violence Prevention and Services (RSVP) is a campus resource, support, and referral center for gender-based issues of harm and abuse, educational programming regarding gender based harm, advocacy and confidential crisis intervention and short-term clinical services. RSVP provides an immediate response to student survivors  who seek therapy, consultation, advocacy and support following sexual/gender-based trauma. RSVP specializes in gender and power-based harm (e.g., sexual assault, domestic violence, stalking) and is part of the Department of Psychiatry's larger Counseling and Mental Health division within USC Student Health. RSVP exists to facilitate the success of students who have experienced sexual/gender-based harm during their time at USC. RSVP also provides educational and awareness programs to enhance students' understanding of sexual violence, relationship abuse, stalking, and healthy relationships/sexuality.
RSVP provides a multi-tiered approach to preventing and treating gender-based harm. RSVP utilizes the Social-Ecological Model of Violence Prevention, which serves as one of the field's best practices and includes a four-level (society, community, relationship and individual) approach to violence prevention. Through education and outreach, RSVP is contributing to immediate increases in community awareness and long-term increases in societal understanding of power-based harm. RSVP serves as a resource throughout USC to train campus staff and faculty in trauma-informed responses to survivors and inform campus policy and procedures. RSVP trains peer representatives through VOICE (Violence Outreach Intervention & Community Empowerment) to improve overall campus climate and simultaneously act as a relationship-level intervention in VOICE representatives' respective communities (e.g., residence halls, fraternities, academic departments). Additionally, by providing treatment for survivors of power-based harm through individual therapy, group therapy, on-campus advocacy, and case management, RSVP is able to address individual-level healing and prevention of re-victimization or the perpetuation of cycles of violence.
Responsibilities
Reports to the CMH Director, who in turn reports to the Chair of the Department of Psychiatry and the Behavioral Sciences
Accountable to Student Health leadership and must be aligned with and responsive to Department of Psychiatry leadership; including goals, objectives and professionalism standards.
Plans and develops RSVP program objectives and content
Modifies existing program services or creates new program offerings to maintain or enhance program standing as it serves students and campus partners
Provides clinical services, crisis intervention, and/or advocacy to students
Directly or indirectly supervises and manages all  staff and trainees assigned to the program
Creates and maintains an inclusive culture in which RSVP faculty and staff feel aligned with and are actively part of CMH, and the Department of Psychiatry and the Behavioral Services and USC Student Health
Provides performance evaluations and quality assurance reviews, addressing areas in need of attention
Develops program operating, clinical, and administrative policies and procedures and ensures compliance
Develops and manages program budget covering operations; provides financial status reports as needed
Works collaboratively with the USC Student Health Office of Health Promotion to track population level metrics regarding gender-based harm
Oversees a comprehensive assessment strategy for all RSVP outreach, prevention, and education programs
Reviews and develops training, policies, and programs throughout USC Student Health medical, mental health, and health promotion units regarding gender-based harm
In collaboration with USC Student Health communications, reviews and develops health communications and responses regarding gender-based harm
Works collaboratively with university departments, as well as community partners, regarding programming and preventative education regarding gender-based harm as well as support services. Provides training in responding to survivors of gender-based harm. Campus offices include:

Students/student groups
The Office of Equity, Equal Opportunity and Title IX
Campus committees such as the Campus Coordinated Response team
USC Student Equity and Inclusion Programs (
Office of Residential Education
Office for Fraternity and Sorority Leadership Development
Department of Public Safety
Other university offices/departments
Community resources including rape crisis centers, LA Police Department, the District Attorney's Office and other entities that support students regarding gender-based harm

Ensures effective response to survivors of sexual/gender-based harm and maintains clinical flow at the center
Provides on-call crisis intervention back-up and assistance to RSVP staff
Creates annual reports, grant proposals, and other reports as needed
Provides education and outreach on issues of gender-based harm to university constituents
Represents the office on committees and at meetings
Represents the program and University as an authority in the field
Responds to requests for information from the community and colleagues
Other projects and duties as assigned by the Director of CMH or Chair of Psychiatry and the Behavioral Sciences
MINIMUM QUALIFICATIONS
Excellent team membership and team participation skills with experience being part of a large, complex organization and demonstrated ability to align with the direction and culture set by organizational leadership. Doctorate in Counseling or Clinical Psychology from an APA-accredited program or Licensed in the State of California (preferred) or CA licensure in process. Five years' experience working with individuals impacted by gender-based harm and interpersonal violence. Resilient, self-aware, and can thrive in a fast paced, demanding environment.Multicultural competency in working with students of color, students from all economic classes, first generation students, LGBTQ students, and international students. Effectively works in a highly diverse and multicultural student population and LGBTQ affirmative environment Commitment to the highest ethical standards of professional practice and to professional integrity.Desire to continue to grow as a professional and committed to excellence.
DESIRED QUALIFICATIONS
Experience being part of a large, complex, matrixed organization with responsibility for ensuring and promoting a healthy organizational culture aligned with broader university goals. Extensive experience in a clinical setting working with individuals impacted by gender-based harm such as stalking, sexual assault, and partner violence. Experience overseeing comprehensive campus programs serving survivors of gender-based harm. Experience providing supervision to other clinical, administrative, or education/prevention staff. Excellent diagnostic skills and trauma-informed clinical background. Understanding of theories, laws (federal, state, and local), and patients'/students' rights related to sexual violence and gender-based harm. Experience collaborating with other offices such as Title IX, Department of Public Safety, community rape treatment centers, community advocacy groups, etc. Experience with university judicial processes and interfacing with law enforcement/campus safety officials. Demonstrated knowledge, experience, and skills in short term individual psychotherapy, group process work and training. Demonstrated knowledge and experience in overseeing victim advocacy programs. Demonstrated skills and knowledge in overseeing population level primary prevention strategies and program assessment. Experience in providing training for diverse professionals through the campus community including public safety, student affairs, and other clinical care providers. Experience working with university students, LGBTQIA populations, and international students, and/or working in university/college counseling centers and/or campus centers serving students impacted by gender-based harm.
Interest and skill in  Foreign language skills are welcome.
Application Deadline: Until position is filled.
Starting Date: Negotiable
The University of Southern California (USC), founded in 1880, is the largest private employer in the City of Los Angeles. As an employee of USC, you will be a part of a world-class research university and a member of the "Trojan Family," which is comprised of the faculty, students and staff that make the university what it is. USC is one of the world's leading private research universities with approximately 48,500 students from all 50 states and boasts one of the largest international student bodies in the country. USC is located in the heart of Los Angeles, a culturally rich metropolitan city with a large ethnic and economically diverse population and is close to both beach and mountains with wonderful outdoor recreation opportunities. The mild temperatures along with the city's average of 329 days of sun per year makes Los Angeles a wonderful city to live and work.
The Department of Psychiatry and the Behavioral Sciences is committed to attracting and nurturing a diverse community dedicated to providing culturally informed, high-quality behavioral healthcare to a multicultural population. Both in our work environment and clinical practice, we embrace diversity across multiple dimensions. We aim to provide a safe, inclusive environment for our faculty, staff, residents, fellows, trainees, volunteers, patients, colleagues, and the multitude of stakeholders with whom we work. Through our clinical services, educational programs, research studies, and policy initiatives, we are committed to addressing health care disparities for historically underserved groups; to combating racism and anti-Blackness at all levels; and to promoting and ensuring social justice.
USC strongly values diversity, equity, and inclusion and is committed to equal opportunity in employment. We prohibit discrimination on the basis of race, color, religion, sex, age, national origin, sexual orientation, gender identity or expression, disability, veteran status, marital status, or any other legally protected status. All genders, BIPOC, LGBTQIA+, people with disabilities, veterans, bicultural/multicultural and bilingual/multilingual individuals are encouraged to apply.
REQ20120801 Posted Date: 08/10/2022
Apply