Faculty
"The University of Southern California is committed to excellence in teaching through strategies that foster the knowledge, skills, relationships, and values necessary for students to make real contributions in a rapidly changing world. USC is an equitable and diverse research university, and we recognize the many ways inclusivity strengthens our campus community. Our superb faculty have the exceptional responsibilities of creating new knowledge and instructing and guiding our passionate, hardworking student body" –Elizabeth Graddy, Executive Vice Provost for Academic Affairs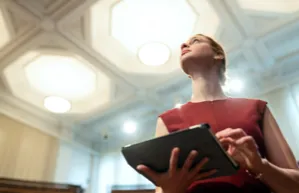 Law Librarian, Research Services
Apply
Gould School of Law
Faculty
Los Angeles, California
The University of Southern California (USC), founded in 1880, is located in the heart of downtown LA and is the largest private employer in the City of Los Angeles. As an employee of USC, you will be a part of a world-class research university and a member of the "Trojan Family," which is comprised of the faculty, students, alumni and staff that make the university what it is.
USC Gould School of Law seeks applicants for a full-time Research Services Law Librarian to join The Barnett Information Technology Center and The Asa V. Call Law Library's Research Services Librarian team. The Research Services Law Librarian will provide extensive reference and research services in a technologically advanced environment serving a sophisticated and research oriented faculty and student body.
The USC Law Library's primary mission is to support the teaching and research activities of the USC Gould community, which consists of approximately 620 JD students, 639 graduate and international students, 52 full time faculty members, and 130 support staff. The USC Gould faculty is recognized as one of the most productive and interdisciplinary in the country.
RESPONSIBILITIES AND DUTIES:
Provide in‑depth research and reference service to USC Gould faculty, staff, and students.

Provide excellent and responsive general information and legal research services through regular shifts at the in-person and virtual reference desks.

Participate actively in the preparation for and teaching of legal research courses, workshops, and presentations throughout the year.

Collaborate with all librarians in the Research Services department to design, develop, and maintain the research webpages on the Law Library website, including LibGuides.

Performs other related duties as assigned or requested. The university reserves the right to add or change duties at any time.
EXPERIENCE AND QUALIFICATIONS:
JD degree from an ABA-accredited law school.

MLS/MLIS (or equivalent) from an ALA-accredited institution OR significant graduate-level coursework toward such a degree is required.

At least one-year experience working in an academic law library or as a legal practitioner.

Demonstrated knowledge of legal information sources and related technologies.

Demonstrated excellent communication, interpersonal, and problem-solving skills.

Ability to work collegially as part of a team.

Demonstrated proficiency in computer applications for legal research.
PREFERRED QUALIFICATIONS:
Teaching experience

Demonstrated competence in delivering legal research services and knowledge of legal bibliography and scholarly research.
APPOINTMENT RANK:
Law Librarians at USC have faculty status and are considered for promotion to a continuing appointment rank after 6 years of service.
ATTENTION:  Applicants must upload a cover letter and a CV/resume to be considered for this position.
The annual base salary range for this position is $81,000 - $90,000. When extending an offer of employment, the University of Southern California considers factors such as (but not limited to) the scope and responsibilities of the position, the candidate's work experience, education/training, key skills, internal peer equity, federal, state, and local laws, contractual stipulations, grant funding, as well as external market and organizational considerations.
Learn more about our benefits and perks here: https://employees.usc.edu/benefits-perks/
Equity, diversity, inclusion, opportunity and access are of central importance to the Gould School of Law (Gould).  Gould holds a unique position in society, and within the university, as every aspect of these principles are influenced by and can be protected through legal rules and institutions.  At Gould, we are proudly committed to maintaining a community in which each person respects the rights of others to live, work, and learn in peace and dignity, to be proud of who and what they are, and to have equal opportunity to realize their full potential as individuals and members of society.
REQ20132926 Posted Date: 05/01/2023
Apply
Staff jobs for current employees
Please visit the Career Worklet on the Workday Homepage and select "Find Jobs" to view USC Jobs.
(If you're not currently a USC employee, click here to view USC jobs)