Keck Medicine of USC
Keck Medicine of USC is one of only two university-based medical systems in the Los Angeles area. Its internationally renowned physicians and scientists provide world-class patient care at Keck Hospital of USC, USC Norris Cancer Hospital, USC Verdugo Hills Hospital and more than 80 outpatient clinics in Los Angeles, Orange, Kern, Tulare and Ventura counties.
Keck Medical Center was ranked No. 16 on U.S. News & World Report's 2019-20 Best Hospital Honor Roll and among the top 3 hospitals in Los Angeles and top 5 in California. The hospital also ranked in the top 4 in urology (tie); top 10 in geriatrics; top 15 in ophthalmology, cardiology & heart surgery, gastroenterology & GI surgery and nephrology; top 20 in neurology & neurosurgery; top 25 in cancer; and top 35 in pulmonology & lung surgery.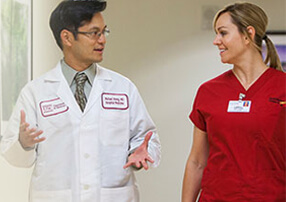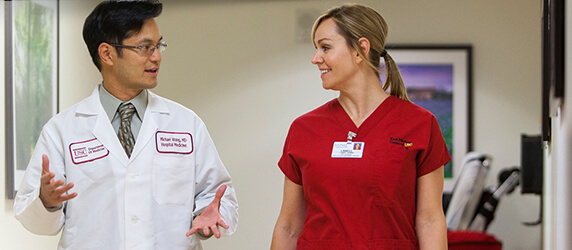 LVN/LPN - Downtown Clinic - Full Time 8 Hour Days (Non-Exempt) (Non-Union)
Apply
Keck Medicine of USC
Hospital
Los Angeles, California
Escorts patients to exam rooms, obtains and appropriately records patient vital signs/medication list, monitors patient flow, assists physicians with minor clinical procedures, performs EKGs, administers medication as directed by physician. Schedules diagnostic tests ordered by the physician as needed.  Performs various administrative duties, including answering patient calls, returning MD and pharmacy phone calls, etc . Ensures patient's right to privacy, safety, and confidentiality is maintained. Maintains a safe environment in accordance with standards, policies, and safety regulations. Ensures compliance with infection control policies. Performs venipuncture methods such as syringe, vacutainer, blood culture and finger stick.  Collects and uses proper specimen techniques.  Oversees and equipment and office supply inventory. 
Works with Executive Programs and provides back up administrative when needed.
Manages Daily Patient Flow and adjusts clinical staff schedule to ensure quality and patient centered care. 
Establishes and revises work center schedule and related staff schedules (with input from clinic director) Other duties as assigned.
The hourly rate range for this position is $25.00- $39.69. When extending an offer of employment, the University of Southern California considers factors such as (but not limited to) the scope and responsibilities of the position, the candidate's work experience, education/training, key skills, internal peer equity, federal, state, and local laws, contractual stipulations, grant funding, as well as external market and organizational considerations.
Minimum Education: • High school diploma or equivalent. Minimum Experience/Knowledge: • Two years experience in an acute care or ambulatory care setting preferred. Required License/Certification: • Valid California Vocational Nursing license. IV certification preferred. • BLS for Healthcare Provider from American Heart Association. • Fire and Safety Certification. If no card upon hire, one must be obtained within 30 days of hire, and maintained by renewal before expiration date.
REQ20127157 Posted Date: 12/26/2022
Apply