Let's change the world together!
USC is a leading private research university located in Los Angeles – a global center for arts, technology and international business. As the city's largest private employer, responsible for more than $8 billion annually in economic activity in the region, we offer the opportunity to work in a dynamic and diverse environment, in careers that span a broad spectrum of talents and skills across a variety of academic schools and units. As a USC employee, you will enjoy excellent benefits and perks, and you will be a member of the Trojan Family - the faculty, staff, students and alumni who make USC a great place to work. Think you've got what it takes to join us? We invite you to search our open positions and apply!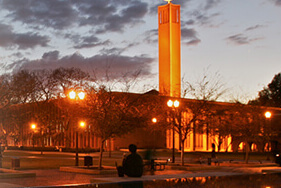 Public Communications Manager
Apply
ICT
Los Angeles, California
The University of Southern California's Institute for Creative Technologies (ICT) is seeking a Public Communications Manager to join its team.  The Public Communications Manager will work closely with ICT's senior leadership, faculty and staff to implement and manage an effective media strategy to support ICT's mission and objectives.
Responsibilities
Plans, implements and manages public relations campaign, activities, projects and/or programs to enhance the public's awareness of ICT's mission and research
Participates in development of public relations goals, plans and strategies
Identifies opportunities to publicize ICT and develops programs or activities to use these opportunities to best advantage
Assists with ICT internal communications
Oversees ICT social media campaign and ICT's website
Develops and produces reports of public relations activities for university and/or department use.
Collaborates with University Media Relations
Preferred skills and experience
Track record of pitching and placing stories about technologies and innovations into national media outlets.
Has established contacts at national media outlets
Strong knowledge of visual communications and digital/social media
Proficient in media measurement analytics and reporting
Experience in the crafting of strategic communications messaging
Exceptional verbal and written communication skills
Experience editing website content
Adept at Photoshop skills (to assist with content editing, adjusting photo sizes in proper perspective, etc.)
A strong sense of collaboration, able to interface with multiple teams
Required Documents
Please submit resume and cover letter with application
Why work at USC ICT
Work on exciting and engaging projects that have real-life impact
A quality work-life balance
Meet interesting people from all walks of life: technologists, social scientists, military experts, creative writers, etc.
Opportunities for free, top-tier university education for you and your children
Located in the heart of Silicon Beach
Be part of both the research and development of tomorrow
Flexible schedule
Great benefits, including medical, continued education, and matched retirement, see http://benefits.usc.edu
About USC ICT
The University of Southern California's Institute for Creative Technologies (USC ICT) is where academia, entertainment, and the military meet. Located in the heart of Silicon Beach in Playa Vista, no other institute offers a more diverse collaborative environment where basic and applied research work hand-in-hand to transition cutting-edge technologies.
We are world leaders in virtual human research, computer graphics, computer training simulations, learning sciences, body computing, and immersive experiences for decision-making, cultural awareness, leadership and health. ICT employees are encouraged to develop themselves both professionally and personally, through workshops, invited guest talks, movie nights, social events, various sports teams, a private gym and a personal trainer. The atmosphere at ICT is relaxed, informal and flexible, while encouraging initiative, personal responsibility, and a high work ethic.
Minimum Education: Bachelor's degree, Combined experience/education as substitute for minimum education Minimum Experience: 3 years, Combined education/experience as substitute for minimum experience Minimum Field of Expertise: Public relations, communications, journalism or related field.
REQ20119588 Posted Date: 10/27/2022
Apply